The nation is gearing up to celebrate the Queen's Jubilee, which brings with it the tradition of "street parties." While many are held in national parks or communities around the UK, some individuals prefer to stay closer to home and pay real respect to what were previously known as "Peace Teas" and are now known as "Street Parties." Back in 2016, with it being the Queen's 90th birthday, there were celebrations across the UK with many people throwing their own street parties. An estimated ½ million people joined in about 5000 street parties.
It is critical to consider safety in all aspects of life, and this is especially true while having a street party. As little as you may think there is to be concerned about, taking little precautions to ensure nothing goes wrong can have a big impact. There are aspects of the day that you will need to be aware of, from using your own personal belongings within the party to leaving your door unlocked.
Carlos Dhunay from Telcam, leading security specialists across the UK, had this to say about being careful at your street party this year: 
"We appreciate that many people are excited to be a part of such a fantastic historic British event, but it is critical to be mindful of others around you." 
Because this is such a joyous time, many of us will neglect to protect our belongings or the security of those around us, which is when thefts are most likely to occur.
Many criminals would know that days like these are easy targets for the general public because it is assumed that not everyone knows everyone and that many of us may be surrounded by people we don't know but don't see as a problem. There are a few simple things you can do ahead of time to ensure that you have peace of mind and that you will be safe when the weekend arrives.
Make Sure Your Door is Locked
This appears to be a simple idea, yet it can make all the difference. When you think of street parties, you probably picture unquestioned trust and people smiling and joking as they pass by each other's homes. While this may be the case, it is also necessary to be wary of prospective intruders who may be present at the street party and enter your home without your knowledge.
Be Aware Of Those Around You
It is common to assume that you may not know every person at the street party, if that is the case, then it is important to not be afraid to ask those around you if they know who they are and if they recognise them. It is common knowledge to a thief that they can blend in within a busy crowd but it is key to stay vigilant and be aware of who is going to be joining you.
Don't Use Your Own Valuables As Decoration
It is easy to lose sight when creating something exciting, such as a street party, or wanting to make it look as creative and beautiful as possible. While this is something that can definitely be achieved, it is important to make sure that you do not use any of your personal items that are of value and could be stolen by an unsuspecting person at the party.
Being close to your home and surrounded by your neighbours might provide a sense of security and belonging, but it is vital to remember that no matter who is around, you must remain vigilant. We recommend keeping your bag with you at all times or locking it up at your home and only using it when necessary.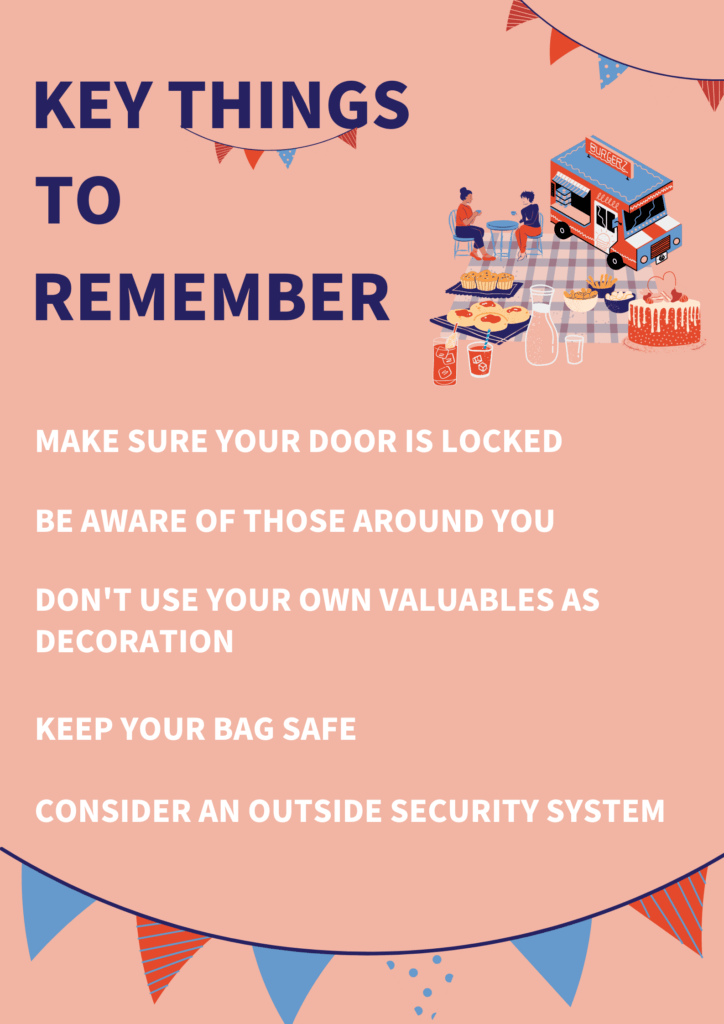 Leaving your bag on a chair or table makes your belongings more vulnerable to thieves and intruders, as you may not discover something is missing until much later in the day, by which time they will have exited the party.
Consider An Outside Security System
Having a security system outside your home is a must for every home. It will give you and your family peace of mind when you are not home, even when you are. There are a variety of systems that you can choose from to suit your home, depending on your budget and the level of security that you require.